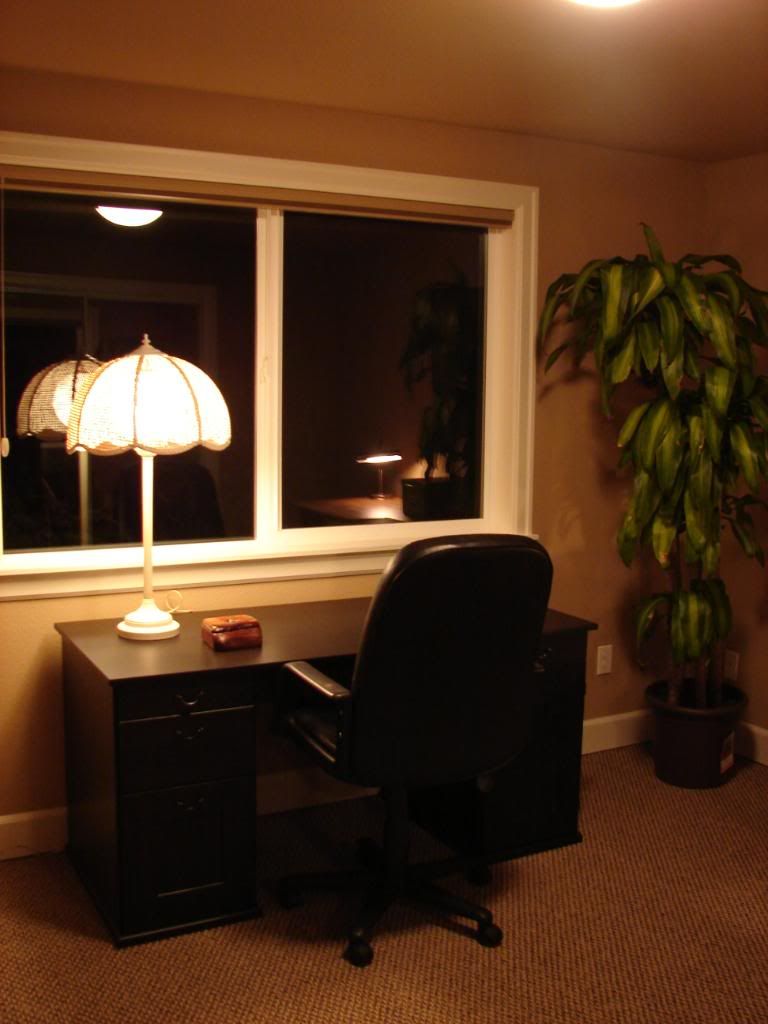 Here's the office!
If we adopt a little girl this will be her room, but otherwise this is where our office/guest room will stay, as if we adopt a little boy we'll be making him share a room with Connor. This is for a variety of reasons, the main one probably being that we like having an office/guest room. Sharing rooms builds character.
Right. Anyway, this room was a totally unremarkable white (excepting the ever-present stencils) box, decked out with vintage 1980's ruffled floral pattern curtains. This room, along with Connor's room, also sported one of those narrow little passageways to get inside with a standard (non-wheelchair size) door. There was no way that could open the door wide enough to squeeze through, even if he had someone push him through instead of trying to wheel himself. Slideshow after the jump.
So as a solution Signature took out a portion of the dividing wall between the rooms that formed the little passageway into them and set the new three-foot wide doors at an angle. Removing that wall didn't lose any useable square footage in the rooms (because what can you do with those little hallways in other than slap pictures on them?) and opened both areas up to Jeremy. The old passageway space made for an extra-large hallway landing more than big enough for Jeremy to do a donut in with absolutely no trouble, which is great because it means he doesn't have to go in a room or back down the hallway if he wants to turn around-- an inconvenience that constantly got on his nerves at our old apartment.
This is the only room we decided to put carpet in; we knew we'd probably have office chairs in here and preferred them rolling over carpet to having a number of rugs in the room, which cause tripping problems for Jer when he's walking, have a tendency to get caught in the wheelchairs, and end up being "killed" and dragged around the house by our cat Loki. Though that might be a little difficult to do with an office rug. Oh well-- he'd probably find a way.
We've since replaced the small table in the room with a futon for guests-- the table is going out in the garage and will be used as Jeremy's roll-under workstation. Otherwise the furniture remains the same. New windows, doors, paint, trim and lighting finish out the space.
Tomorrow, Connor's room!
~Jess